Tuna are known for their speed, power, amazing fighting tenacity and superb taste, thus are the ultimate target for big game anglers. To catch Tuna, you have to know how to target, lure and entice them to strike your offering, and of course have proper gear, strength and some good luck to land them.
In order to catch a tuna, a fisherman needs to know the answer to the question, what do Tuna eat? With a better understanding of a Tuna's diet, tuna bait selection and lure options that mimic their prey will be easier to choose and make catching tuna possible.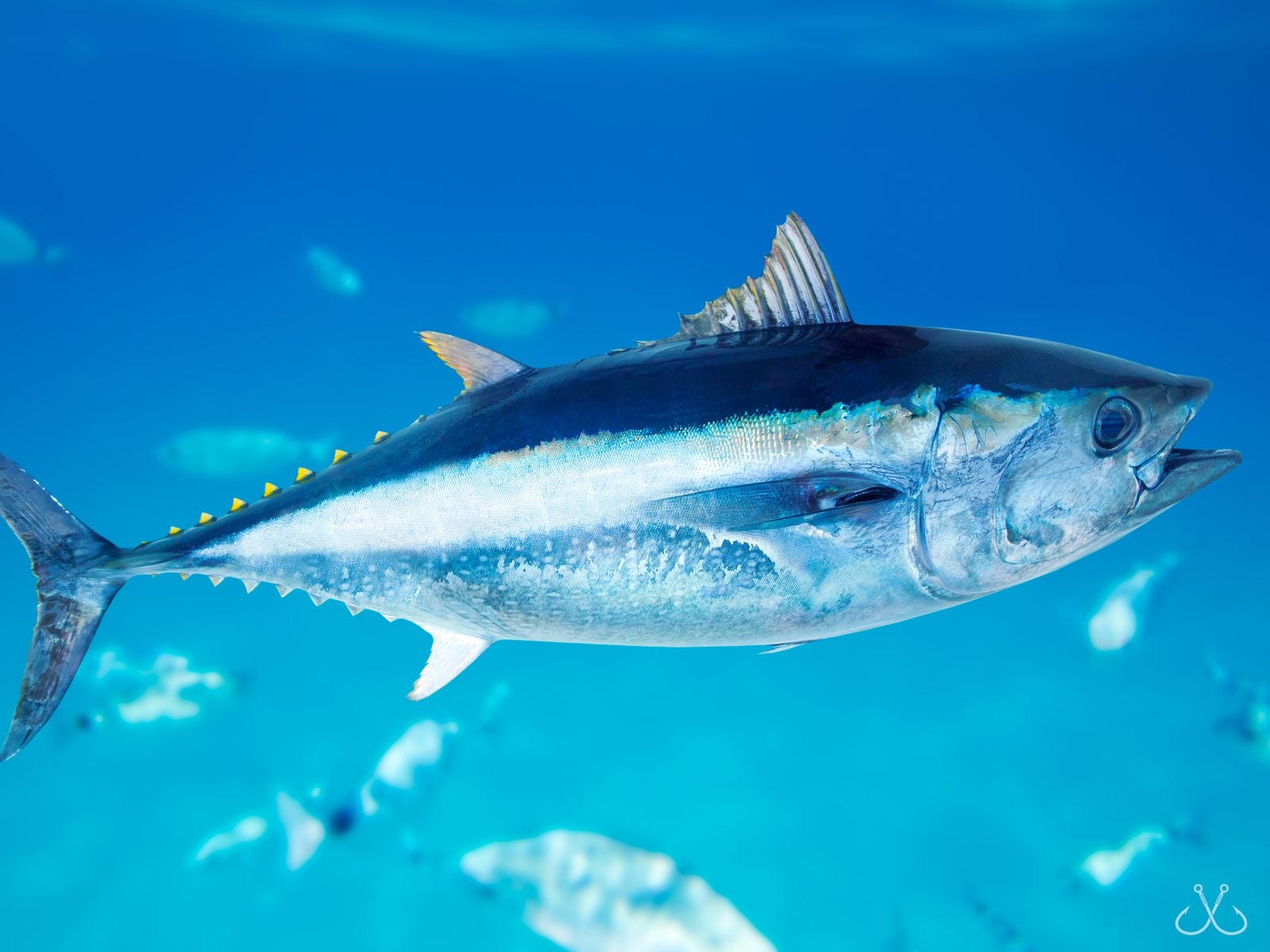 By understanding what Tuna target and eat you will learn about the different types of food that tuna eat and how to choose the right bait for a successful catch.
What Do Tuna Eat?
The diet of tuna fish varies depending on the species and their life stage. Tuna are predominantly carnivorous and feed on a variety of prey including:
Fish such as sardines, anchovies, mackerel, herring, menhaden, ballyhoo, butterfish and bluefish.
Squid and octopus
Shrimp and other crustaceans
Krill and other small planktonic organisms
Tuna use a combination of visual and sensory cues to locate their prey. They have excellent eyesight and are able to detect the silhouette of potential prey from a distance. They also use their lateral line, a system of sensory organs along their body, to detect the vibrations produced by moving prey.
Once a potential meal is located, tuna use their speed and agility to catch their prey. They are capable of swimming at speeds of up to 60 miles per hour, which allows them to quickly close the gap between themselves and their prey.
They also use their large, powerful jaws and sharp teeth to capture and consume their prey.
Different tuna species inhabit different water conditions and habitats, which can influence their diet. For example:
Yellowfin tuna can be found in warm, tropical waters as well as the gulf stream and often feed on small fish such as sardines and anchovies.
Bluefin tuna are found in cooler waters and feed on a variety of prey including squid and mackerel.
Bigeye, Blackfin, and Skipjack tuna inhabit both warm and cool waters and feed on a variety of prey including squid, small fish, and crustaceans.
Tuna are carnivorous and feed on a wide range of prey including fish, squid, crustaceans, and planktonic organisms. They use their speed, agility, and sensory systems to locate and capture their prey.
Best Baits to Use for Yellowfin Tuna and Bluefin Tuna:
Live baits: Live baits such as anchovies, sardines, and mackerel can be effective in catching tuna. The scent and movement of the live bait can attract the tuna, making it a great option for targeting them.
Artificial lures: Artificial lures that mimic the appearance and movement of the tuna's food can also be effective in catching them. This can include jigs, plugs, and plastic lures.
Trolling lures: Trolling lures that mimic the look and movement of smaller fish can be an effective way to target tuna.
Watch the How to Catch Tuna Video Here…
In determining the best baits to use, it is important to consider the type of tuna you are targeting and the type of food they are feeding on in the area. You can determine this by observing the surrounding water and fish behavior, or by using a fish finder. It is always best to have an assortment of lures and baits at the ready to make changes depending on what draws the tuna to strike.
When you are fishing for Yellowfin Tuna and Bluefin Tuna understanding the diet of tuna and what baits to use can greatly improve your chances of a successful catch. Whether you prefer live baits, artificial lures, or trolling lures, there is a bait option that can help you target and catch these powerful fish. The lures must mimic what the tuna are feeding on
Using a match the hatch bait choice aka choosing a bait the fish are currently eating works best for natural catch tuna fishing.
What is Natural Catch Tuna Fishing?
Natural catch tuna fishing, also known as traditional or artisanal tuna fishing, involves catching tuna using traditional methods that do not harm the environment or endanger other marine species. This type of fishing is usually done by small-scale fishermen who use rod and reel, in small, to medium sized boats to catch tuna.
In natural catch tuna fishing, the fishermen use bait to attract the tuna, and then reels them in one by one using hooks attached to lines. This method is highly selective, and only targets the desired species while allowing non-targeted species to swim away unharmed, utilizing a catch and release techniques.
This approach contrasts with industrial fishing methods that use large nets, longlines, and other gear that can harm other marine species and ecosystems known as Bycatch which is avoided. Natural catch tuna fishing is considered sustainable and eco-friendlier than industrial fishing. Many tuna consumers prefer to buy tuna caught using these sustainable methods.
What is the Market Price for Yellowfin Tuna?
Bluefin and Yellowfin Tuna can yield thousands of dollars per fish, depending on the market price, and quality of the meat. Market prices for seafood varies, dependent on factors such as global supply and demand, weather conditions, fishing regulations, and more.
It is best to consult with current industry experts, such as fisheries analysts or seafood traders, and brokers for the most accurate and current information on todays Tuna prices.
Eat your Catch – How to Make Sushi Rolls
Invest in a Sushi Kit as it will provide you with all the tools necessary to roll your own sushi
Prepare the sushi rice: Rinse the sushi rice several times until the water runs clear. Add the rice and water to a rice cooker or a pot on the stove and cook according to the package instructions. Once the rice is cooked, mix in sushi vinegar and let it cool to room temperature.
Prepare the tuna, and other fish: Cut the tuna into long strips with a Sushi Knife, about 1/4 inch thick.
Prepare the sushi roll: Lay a sheet of nori seaweed sheet on a sushi rolling mat with the shiny side down. Wet your hands to prevent sticking, and spread a thin layer of sushi rice over the nori, leaving about 1/2 inch of nori uncovered at the top.
Add your fish: Place the tuna strips horizontally across the center of the rice.
Roll the sushi: Using a specialized bamboo mat, lift the bottom edge of the nori and roll it tightly over the filling, using your fingers to keep the filling in place. Once the roll is complete, use the mat to gently press the sushi together.
Cut the sushi roll: Use a sharp knife to cut the sushi roll into pieces, about 1 inch thick. Wet the knife between cuts to prevent sticking.
Serve: Arrange the sushi pieces on a Sushi Boat and serve with soy sauce, wasabi, and pickled ginger.
Keep in mind that making sushi takes practice, so don't worry if your first attempt isn't perfect. With time and practice, you'll be able to make delicious yellowfin tuna sushi.
This post is just the beginning of your journey to become a tuna fishing expert, be sure to check out Best Lures for Successful Tuna Fishing for more in-depth information and tips on fishing. Happy fishing!
Check out some aerial footage of the Montauk Fall Run, before you go….