Are you planning a Tuna Fishing Trip? If so it is time to gear up for that prize fish using the best lures for successful tuna fishing.
Whether you're a seasoned angler or just starting out, the right lures can make all the difference between success and failure. With so many lure options available, I focus on my go to lures for tuna fishing. These are Tuna fishing lures that have proven successful for me I do believe they will benefit any tuna fisherman as they target different fishing methods of targeting Tuna. I recommend you give them a try and add them to your tackle box if they are not already included in your Tuna arsenal and let me know how you do.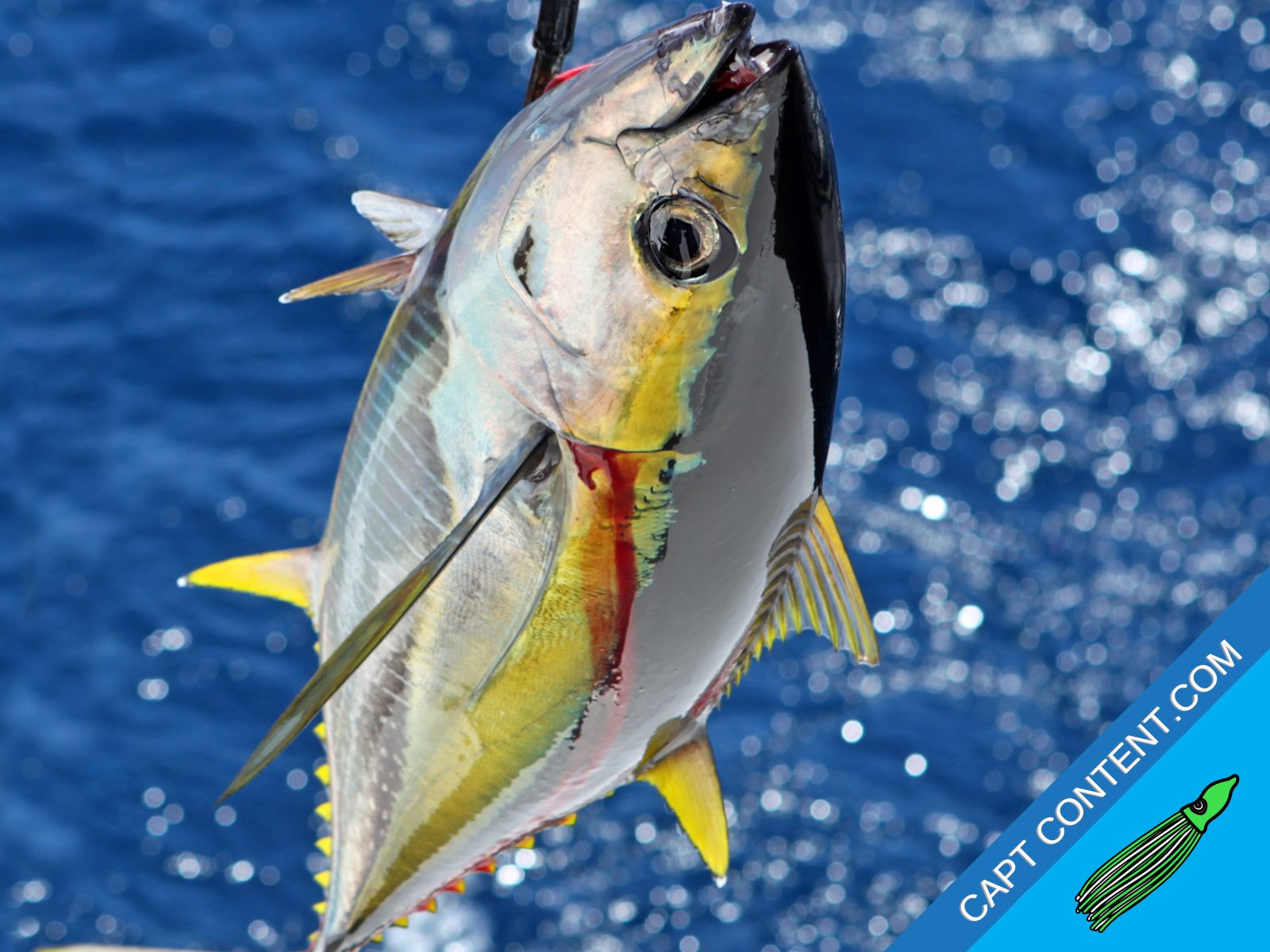 Fishing for Tuna can be done several ways, Including using natural bait such as Ballyhoo, Butterfish, or Mackerel which are key methods and are used in conjunction with many of the artificial lures I mention. This post targets proven artificial lures to include in your tackle bag when targeting Tuna by Jigging, targeting tuna on Top Water, using Poppers, and by Trolling. To be clear I personally have had success in catching Tuna using all the lures I list, but are not the only lures I take with me.
Regulations, Reels and Safety
Also to be clear it should be understood that no matter what type of Tuna fishing you do, you will need strong, durable fishing rods and reels such as Penn Internationals, Avet 2 Speed, Shimano Trinidad High Speed, Penn HD Spinning and Daiwa BG MQ Reels that can handle the fight of a big tuna. Also be aware of the Fishing Regulations, especially for Tuna as the Bluefin Tuna and other fishing Regulations should be followed as they can be very stringent. Be sure to know them before you go out, know the regulations and bag limits, for Tuna click the highlighted hyper link and go to; NOAA click "Find a Species" to reference the species and the Regulations, know before you go.
Reels with a high gear ratio, and built to withstand heavy and fast action are paramount. Heavy Duty Reels are needed to haul in a Tuna, multi speed and strong drag system are needed to retrieve line efficiently and as quick as possible. You should also use heavy-duty fishing lines, leaders and hardware that can stand up to the teeth, weight and strong pull of a Mad Tuna.
As a PSA, Public Service Announcement, prepare for everything, being offshore 80+ miles in the ocean can be unpredictable, I always carry a personal GPS location device so the Coast Guard can locate me and the crew in case of distress or disaster. I carry the ACR ResQLink GPS Personal Locator Beacon, I recommend it.
Best Vertical Tuna Fishing Jigs:
When jig fishing for big game fish, presentation of the fishing jig is critical. When fishing for yellowfin tuna you can maximize your chances of a successful catch when you present the jig in a way that mimics the natural movements of the local baitfish that are eluding the tuna.
This often involves working the jig vertically (up and down) , pausing, and then twitching it to imitate a wounded baitfish. Experiment with different set ups and presentations to find the one that works best in the conditions you are fishing in.
Pay attention to the depth of your lure drop as this will greatly influence your success when jig fishing for tuna. Tuna are often found in deeper water and therefore you need to be able to control the depth of your jig.
A quality depth finder or fish finder will help you determine the depth and structure of the area you are fishing in, and allow you to target specific depths where the tuna are likely to be.
Shimano Butterfly Jigs are a top-performing jig for vertical jigging and one of my favorites. The flying hook creates a lifelike swimming action that mimics prey, attracting tuna and making it irresistible, I find that many strikes often occur as the lure flutters down the water column.
Daiwa Saltwater MRS220G02 Metal Jigs the Daiwa Jig Saltwater Sa Sk G Saltiga Metal jig and the Daiwa Saltiga SL Jig SD (Super Deep), are a great option for vertical jigging or for casting and retrieve fishing. The metal design and variety of weights and 3D flashy colors make it a versatile option for different water and tuna fishing conditions.
Williamson Gomoku Vertical Jigs are a top choice for deep-water fishing. The compact design and variety of weights make it a versatile option for different fishing conditions.
If you are looking for both quality and value try the Calissa Offshore Tackle Fast Fall Jig 6 pack, These discount fishing lures come complete with the dual assist hooks and also include a carry case. Like the other jigs these are deadly, especially during the Night bite or when over a school.
Watch the latest video catching Tuna with the lures premiered here.
Tuna Fishing with Top Water Poppers:
Hands down, top water fishing for Yellowfin Tuna with saltwater poppers has to be my all-time favorite way to fish for fast moving Tuna. Watching the Tuna explode out of the water and slam the Chugging and Popping Lure gets the adrenaline pumping as you watch and feel the Action!
Tuna topwater lures come in various shapes, sizes, and colors, and it can be difficult to determine which one to use, hence the reason for this list.
Generally, it is best to use topwater saltwater poppers that mimic the local baitfish. The sound of your popper is another critical aspect of top water fishing for tuna. Experiment with different speeds when reeling in to find the best speed for the water conditions you are fishing in.
A slow, steady retrieve can be effective, as can a quick, erratic retrieve. Try a walk the dog method, side to side retrieve, the splash, chug, and spray must all work together to conjure that elusive Tuna strike.
Nomad makes excellent big game lures. The Chug Norris Popper is my go to favorite topwater Tuna Popper. I carry several in a different colors and patterns to mimic the tuna's prey.
The Chugging Action is scandalous and the 6" and 7" sizes attract Tuna and all other pelagic species like those crazy Bonita and False Albacore. The lure floats and has an aggressive pop, it comes in a variety of vivid colors that match the prey that are in season or in the area. The hooks are heavy duty and ultra sharp.
Yo-Zuri Mag Popper is a top choice for Yellowfin tuna fishing as well. This saltwater popper has a cupped front end that creates big splashes, A bottle neck design and a weight transfer system, where bearings settle in the tail for ultra far casting then lock into the swimming front section using magnets that hold the bearings for excellent swimming action. These lures catch fish!! Not kidding…
SMASHDIT Saltwater Poppers, Lure Set of 3 – Topwater Poppers, If you like high quality at an excellent value, then beefing up your arsenal with these Tuna Top Water Lures by SmashDIT should be considered.
You get three heavy duty top water lures that rival any Tuna Popper out on the market. These lures captivate a Tuna's attention with brilliant colors that mimic their prey, and kick up the water while making a strike producing noise with the internal Rattles.
The Brilliant Holographic patterned lures grab a Tuna's attention as well as other Gulf Stream traveling pelagic fish of every species and size. (GET-SOME!!!)
Best Tuna Trolling Lures:
Another one of the most effective methods for catching Tuna is trolling with lures. When picking trolling lures it is important to choose lures that mimic the appearance and movements of their natural prey.
Trolling Lures include Skirts, Jets, Spoons, Plugs and other Artificial lures. Consider using a combination of tuna trolling lures to cover different depths and swimming speeds. Depending on the number of fishing rods being fished will determine what you include in the trolling spread behind your boat. Fishing 6 or 7 poles is an average for most boats trolling for Tuna.
When Trolling for Tuna some of the must haves are Cedar Plug Trolling Fishing Lure. in 6 inch Natural Cedar, they come Fully Rigged and come in 100, 150+ Lb Mono. When Fishing Cedar Plugs they can be fished close or away from the boat.
I have always had success catching Tuna of all sizes fishing cedar plugs on the corners of the boat's stern, placement of the lures is key and they can be fished close to the boat not far into the wash. For some reason cedar plugs always produce tuna of all species, as they find them irresistible.
Cedar Plugs are a must have. Insure you include them in your Tuna Fishing arsenal and fish them in your tuna trolling spread.
A Trolling lure that is a fan favorite is the Green Machine Trolling Daisy Chain Lures . The Daisy Chain Lures imitate a line of baitfish. Tuna hit this lure with reckless abandon, its success in catching Tuna is legendary.
One of my trolling favorites is to troll Hard Bait Divers, these lures are designed to dive deep or shallow into the water column, your fish finder will identify where the Tuna are and these divers will dive and present themselves and stimulate a strike.
If you are looking for a good sinking bait try the Nomad Madscad Sinking – 150mm – 80g – Black Pink Mackerel, or the Nomad Design DTX Minnow.
Ballyhoo Rigs by Offshore Tackle are a top choice as well for trolling for tuna fish. The natural design of the ballyhoo and rigging options make it a versatile option for different fishing conditions.
Chatter Lures, Side Tracker Directional Spreader Bars, or those made by Sterling, are designed to be pulled straight from the fishing rod tip right from the rod holder or from the line guided through an outrigger. Success with directional tracker lures is achieved by the angle of the Tracker, a rudder type device atop the front lead bird which allows the Lures to be spread out up to 30' feet further out from the stern either port or starboard off the boat out into the undisturbed water without using an outrigger. (See Diagram)
If you fish a Directional Tracker Spreader Bars fished with an Outrigger you can extend the lure outward unto 60' which places the lures into undisturbed water beyond the boat wash reducing tangle as well. Tracker bars give smaller boats the ability to have a versatile trolling spread without the use of outriggers. Providing versatility and direct connection to the fishing pole's drag vs going through the outrigger can be considered a competitive advantage for tuna fisherman, especially during tournaments.
Black Bart Trolling Lures, are a Top Brand Spreader Bar Trolling lure that come in all several sizes and price points. Many Tuna Fisherman regard these type of lures trolling lures as a standard for success and are included most Trolling Spreads.
A top choice for trolling for tuna. These Spreader Bars mimic the appearance and movement of a small school of baitfish, as they're rigged with multiple lures or baits and come in a variety of colors. They're trolled behind the boat at a moderate speed and are highly effective for attracting large schools of tuna and other pelagic fish.
To wrap-up, using high-quality tuna lures is essential for successful tuna fishing trips. The lures and brands identified are all great options all designed to mimic the natural movement of live bait and are durable enough to handle the toughest conditions and toughest Tuna.
By incorporating these lures into your tuna fishing arsenal, whether you are Trolling, Jigging, or targeting Tuna on Top Water, you will increase your chances of a successful Tuna trip by either using these lures or comparable substitutes. There are many brands and options to choose from in many price points, you may have found or will find success with other lures and options, please share as feedback will make us all better at catching fish.
Click on any of the lures I listed above in Bold Letters to have instant access to each of the lure premiered. Experiment with these and other Tuna Lures, make sure you prepare and have what you will need for Tuna Catching Success. And remember to follow the three W's when picking the best Tuna Fishing Days. Insure you look for a good weather window considering the (Weather, Waves, and Wind). Be Safe and Have Fun … Fish-On!
If you want to know how to spot the fish from above make sure you check out Finding the Best Backwater Fishing Hot Spots..technology, the ultimate fish finder…..Tuna Towers are good but Drones are amazing in finding fish, and fishing hot spots, also check out my post and video over Montauk Point during a Huge Striped Bass Blitz
This Post contains affiliate links for your convenience. See my full disclosure policy here.