Welcome, fellow anglers, today I will share local knowledge on finding and harvesting your own bait, specifically digging for sand worms. Harvesting your own bait can be just as enjoyable as the fishing experience itself. You also deepen your connection with the sea, your local ecosystem and the diverse food chain.
Today, we are delving into the art of finding and digging for your own sand worms, bloodworms, and tapeworms right from your local beach, tidal waterways and estuaries, armed with nothing more than a trusty pitchfork, your humble bucket and boots.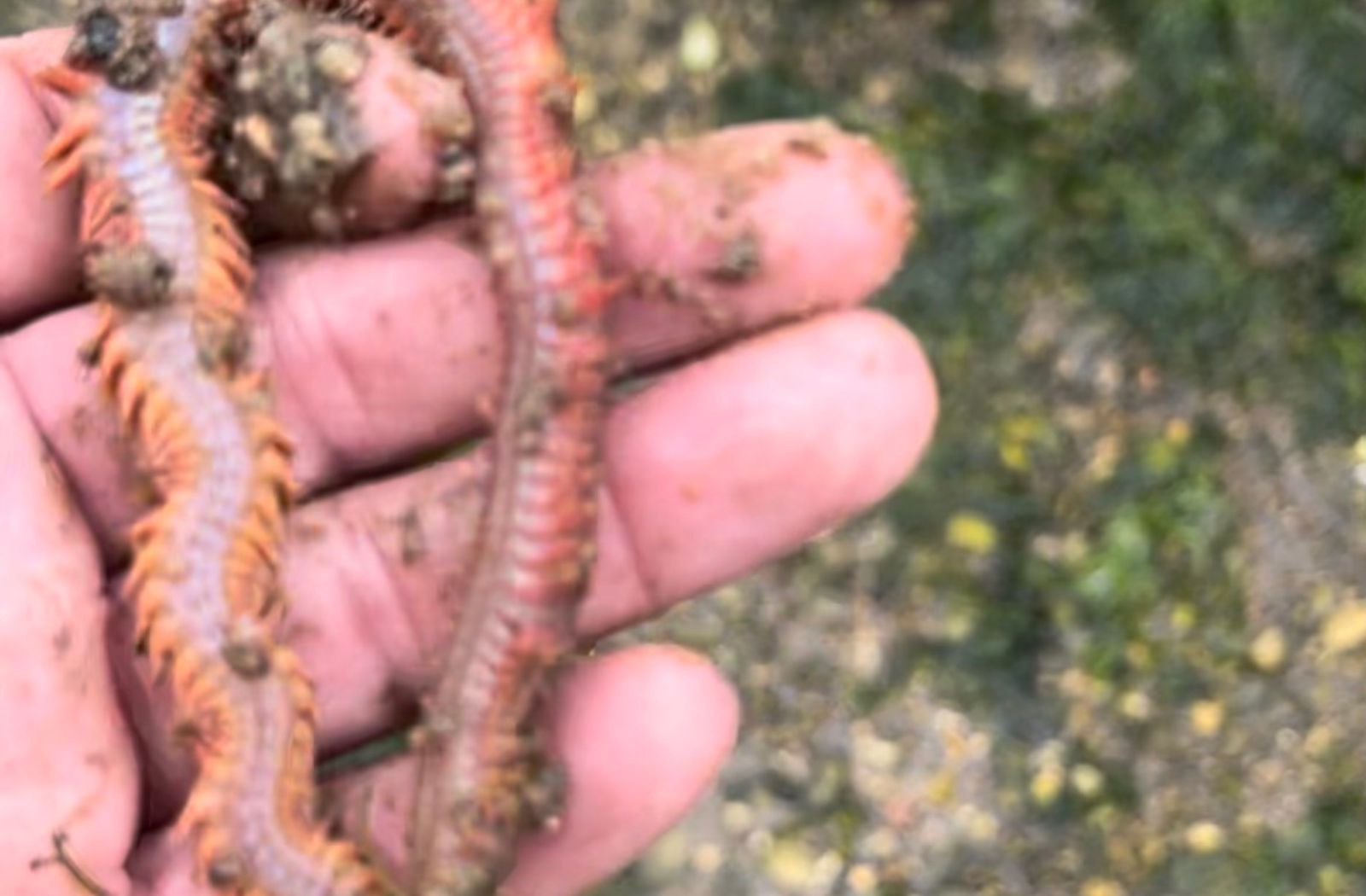 Any fisherman can go to a tackle shop and buy a box of worms, but way too many times have I been given the news that they are all out, waiting on a delivery or the grim phrase "I only have small one's". This post will focus on how to overcome this disappointing news, and provide you with a newfound fishing skill.
As a fisherman it is very satisfying in saying you harvested your own bait and then used it to target and catch that trophy fish or cull in enough fish for the family to have a weeks worth of delicious healthy meals.
Harvesting bait is a time-honored tradition that connects us to the roots and fundamentals of fishing, where self-reliance and resourcefulness were and still are essential skills.
The lessons of being self reliant in anything is a life lesson that builds character and essential skillsets that make you an independent stronger person. You will also feel a sense of satisfaction and accomplishment, let's not forget that having the preferred baits your prey craves, will provide an advantage in landing trophy fish and catching fish consistently.
Fish will always feed eagerly on what has been on their menu. For Striped Bass the larger worms are irresistible and they will always slurp them up when offered correctly.
So, when fish spot their preferred meal which is usually a bait that's familiar to them and that they find irresistible you will catch more fish consistently.
Striped Bass feed on an assortment of prey, I find that using large sand worms aka Bass worms is a bait that never lets me down. I have caught more bass on sand worms than any other bait. You will also find that every other type of fish will find this offering irresistible as well.
Sand worms can be found in the same area where you will target Striped bass. During low tide you can catch the baits and during incoming higher tide you will catch the Bass.
Using fresh baits is critical for enticing your targeted fish species. This is precisely why using fresh bait is an absolute game-changer when it comes to attracting those prize catches.
We'll begin with the essential tools of the trade – a trusty pitchfork and a bucket. Though rudimentary, these two items will prove to be your greatest allies in the quest for these baits.
Exploring the shores during low tide will offer you more than just bait; it will provide you with an understanding of the deep holes that will hold fish during higher tides, as well as uncover tidal sand bars and rocky estuary bottoms that hold the sand worms.
These area's are only accessible during the low tide. Not to mention exploring these areas will provide moments of tranquility, inspiration, and a chance to appreciate the beauty of the coastal ecosystems.
The art of worm digging and the pursuit of trophy fish are gateways to a deeper understanding and appreciation of the marine world, you will become a better fisherman.
What tools do I need to dig for worms?
You will need a broad tooth pitchfork preferably stainless steel. A large bucket or cooler to carry your worms home.
Do not forget you will be digging in salt water and salted sand so remember to rinse off your tools after use or they will rust quickly. I use a Stainless Steel Pitch fork as they can last longer. Click the pitchfork image to check prices.
How do I find the location to Dig for Sand Worms a/k/a Bass Worms?
Identify suitable habitats: Big Sand worms a/k/a Bass Worms, blood worms and tapeworms are burrowing creatures that prefer sandy slightly rocky and muddy substrates.
Look for areas along beaches, estuaries, tidal flats, and streams where the sandy shoals get exposed. These environments provide the worms you seek.
Research local regulations: Before heading out to dig for worms, familiarize yourself with local regulations and obtain any necessary permits or permissions for collecting worms in the area you plan to fish. My town requires a worming permit and the fee is .25 cents.
Plan your digging during low tide: The best time to dig for sand worms a/k/a bass worms, lug worms and tape worms is during low tide. During low tide, large portions of the intertidal zone are exposed, allowing you to access the areas where the worms burrow.
It's essential to know the tide times and plan your digging accordingly.
Check tide charts: Use tide charts specific to your fishing location to determine the times of low tide. Many fishing websites, apps, or local authorities provide tide charts that show the tide cycles for various dates.
Arrive early and be prepared: Get to the location before the bottom of low tide as some tides are extreme and change quickly. Worms are often more active during the earlier stages of the ebbing tide.
Bring a pitchfork, a bucket, and some water to keep the worms moist. Be aware that shovels do work but tend to damage the worms and render them useless quickly.
Look for telltale signs: Once you're at the beach or tidal flat, look for signs of worm activity. You may see small burrows or piles of castings (mud balls) on the surface, indicating the presence of worms and other burrowing critters.
Watch the Video on – How to Catch Sand Worms a/k/a Bass Worms for Fishing
Digging techniques: When digging for sand worms, use a pitchfork to carefully dig into the sand or mud. Be firm but gentle to avoid damaging the worms. I find that depths of 6 to 12 inches is the ideal depth where worms can be found.
Mind the depth: Worms tend to burrow at varying depths depending on the tide level. During lower tide stages, they may be closer to the surface, making them easier to find and collect.
How do I keep the Sand Worms a/k/a Bass Worms Alive?
Handle with care: When you find the worms, handle them with care to avoid injuring them. Place them in a moist container, like a bait bucket or cooler with damp seaweed or newspaper, to keep them fresh and healthy for fishing.
Keeping your baits alive is critical, keeping them healthy and lively is the ultimate goal so they are ready for your next fishing trip. I use battery and A/C bubblers to insure the worms stay healthy.
Keep them in a cool place with salt water from the waters you harvested them and add a bubbler to keep them oxygenated and lively. I have kept worms this way for up to 2 weeks.
If you are home use an A/C powered bubbler the kind used in smaller fish tanks as you will not go through batteries this way. When heading out I will use the battery powered bubblers.
Healthy and lively sandworms will undoubtedly elevate your fishing game to a whole new level. These baits can make all the difference between a mediocre day and an epic day landing that trophy striped bass of a lifetime.
Let's not forget about the importance of sustainable practices in worm harvesting. Ensuring we only take what we need and avoiding excessive disturbance to their natural habitat will help preserve this crucial aspect of the marine ecosystem.
Armed with your newfound knowledge of locating and digging up sand worms, you're now better equipped to entice those elusive trophy striped bass. Whether you're fishing from the shoreline or aboard a boat, these wiggly baits will undoubtedly prove to be an irresistible treat for those monster bass lurking below.
So, the next time you are planning a fishing trip, before you head out, make sure you plan in advance, harvest your own sand worms, during low tide.
Look for that sandy bottom, scan the shoreline for the telltale signs of sand worm habitat. Armed with your bucket, and pitchfork, and a bit of patience, you'll be ready to collect your own bait.
My experience is that the baits are bigger and better than those at the bait shop. In a pinch the bait shop is fine but you get a better sense of accomplishment, knowing that your efforts may very well lead to that triumphant moment of reeling in the striped bass of your dreams.
Happy fishing and tight lines!
For tips and tricks on finding the Best Fishing Spots check out all my Backwater Secrets Here…
This post contains affiliate links for your convenience. See my full disclosure policy here.